::the films
SPM
SPM 2
SPM 3
SHM
SHM 2
Hard to Die

::multimedia
Music
Video Clips

::interviews
Kelli Maroney
Andras Jones
Jim Wynorski
Sally Mattison
Jason Paul Collum
Brinke Stevens
Vinnie Bilancio
Chuck Cirino
Brandi Burkett
Christopher Bradley
Don Daniel
Amy Jones
Debbie Dutch

::other
Cheerleader Massacre
Chiller Theatre
Femme Fatales, 9:3
Femme Fatales, 11:5
Focus
Iced
Joe Bob Briggs
Links
Linnea Quigley
Site Publicity
Some Nudity Required
Something to Scream About
Sorority Babes in the Slimeball Bowl-o-Rama
Sorority House Massacre 3
Various Pictures

::fun stuff
Fan Section
Quiz
Wallpaper

::interact
Facebook Group
E-mail Webmaster
Facebook
YouTube



News Archives

From hereon out (at least temporarily), please join my Facebook group as it is where I will be uploading all new content! Join in on the fun but please read the pinned post before you put anything on the group. Follow the banner below for the Facebook group. Thanks, guys!
LONG LIVE SLUMBER PARTY MASSACRE and SORORITY HOUSE MASSACRE!





8-21-12

For today's update, I'd like to mention two projects involving Jason Paul Collum and myself. First off, I am very excited that the documentary Screaming in High Heels (which I was an associate producer on, provided a load of archive footage, and was briefly featured) is coming out to DVD via Breaking Glass Pictures August 28th (a week from today). Dark Delicacies is having a DVD signing August 29th in Burbank, CA - with Brinke Stevens, Michelle Bauer, Fred Olen Ray, David DeCoteau, Richard Gabai, Jay Richardson, Ken Hall, Ted Newsome, and Jason Paul Collum (all guests tentative). My good friend, Devon Whitehead, will be going on my behalf. Check out the trailer below, be sure to BUY a copy, and you can visit the Facebook page for Screaming in High Heels here.




Also, Jason Paul Collum wanted me to let everyone know that he is selling two awesome posters designed by Eric Arsnow for Sleepless Nights: Revisiting the Slumber Party Massacres. Jason says, "I'm now selling them for $15 each (includes shipping and flat packaging). Size 11x17 on a sturdy stock. Anyone interested can contact me through Facebook. I am only accepting personal checks and money orders at this time." Take a gander at the posters below, and you can contact Jason on his Facebook page if you're interested in buying them.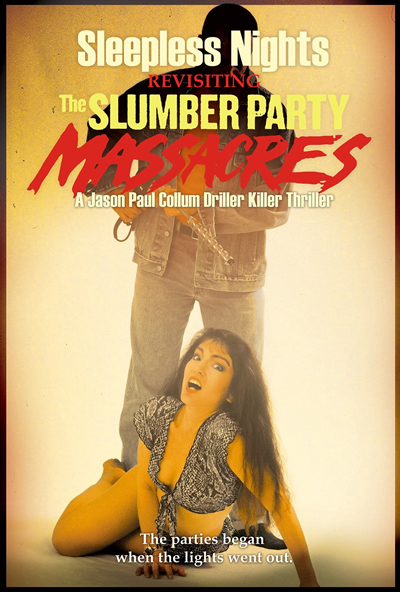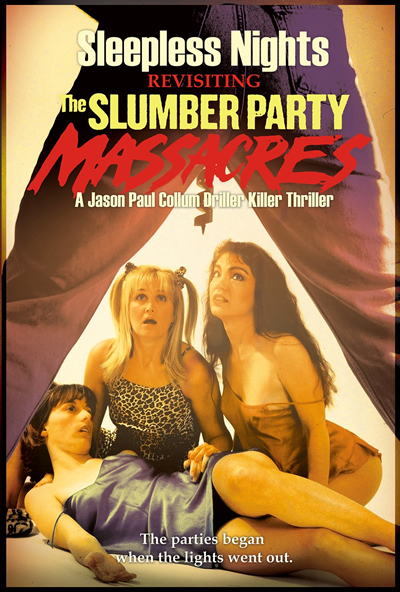 8-8-12

Enjoy the SPM fan poster below, a product of my good friend Devon Whitehead's extremely creative and talented artwork. Devon sells horror t-shirts on his Facebook page for Slashirts (click here to visit his store). If you are interested in buying a poster print from Devon himself, please e-mail him at devondraws@gmail.com




6-22-12

Just a quick update to let everyone know that The Old Hockstatter Place is not dead...and is still very much alive! I know, I know... How many times have I said that? But hey, the site is still online and I make it a point to pay for it to stay online each month! I hope to be posting some interviews with cast and crew members from SHM, SHM 2, SPM 2, and more in the near future.

Also, I would like to let everyone know...thanks to "Stosh Matthews" on the OHP Facebook Group...the locations for Courtney's house and the condo from SPM 2 have been found! To see pix of the condo, visit the Group or google "Condo Banyan Pl Saugas." We believe the exact address is 22839 Banyan Pl 332 in Saugus, CA 91390 (looks like it's for sale right now, also!). The address for Courtney's house is 1049 Victoria Avenue in Los Angeles, CA - and YES, it is like 1.9 miles away from Trish's house in the original SPM! It's a small world afterall... And, let's not forget... Sandy Fury (who was an extra in SHM and also the sister of Bruce Teitelabum, the still photographer on SHM) re-visited the SHM house at 1661 Buckingham Road in Los Angeles. After the update, below, are the Google Maps street views of Courtney's house and the infamous sorority house.

Everyone should definitely visit and join the Group if you haven't already. This is really where the site is living on at the moment. I still have things that I want to do with the actual site, but in the meantime, this is where you can keep up with what's going on SPM/SHM related. I appeared on three Blogtalkradio shows recently, also - which kind of make up for the fact that I have not posted any interviews on the site lately...because you get to hear some very interesting stories from Debbie Dutch, Sandy Fury, Beverly Gray, Heidi Kozak (HAPPY BIRTHDAY TODAY, HEIDI!), Nicole Rio, and Peter Spellos.

The first was with my friends Kevin Sommerfield and Steve Goltz for Slasher Studios - where Beverly Gray (story editor on SPM 2, SPM 3, SHM 2, and HTD) and Heidi Kozak (Sally from SPM 2) called in!



The second show was with my friend Nathan Johnson and Peter "Orville Ketchum" Spellos for The Axe to Grind.



And last but not least, the third show was the 2nd part to the first SHM themed Axe to Grind episode, where we had special guests Debbie Dutch (Jackie from HTD), Peter Spellos, Sandy Fury, and Nicole Rio (Tracy from SHM)... Oh, and there's a special cameo by Bruce Teitelbaum in there, too! hehe






View Larger Map


View Larger Map




Discuss this in the Group

4-5-11 - THIS IS NOT A MIRAGE! Yes, an update!!!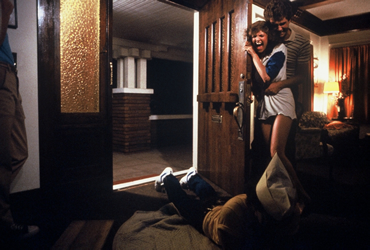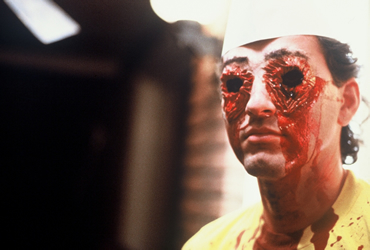 I know, I know... The site has been dormant for far too long. I feel like I've taken an ample hiatus to lead up to this moment...the unveiling of everything that was left out on the Slumber Party Massacre Collection! I'm getting everything together that was discovered along the way of the whole experience during February of 2010, and I will share with everyone everything, in my ability, that I managed to get my grubby little hands on. I plan on giving a big description of the whole experience (which is looooong overdue), along with my take on how I feel about the finished product. I hope everyone got a good kick out of seeing and hearing me on the DVD set, and I do apologize to those who happened to get those dreaded "second issue" copies. I have no idea what happened with all of that... *looks around stupidly*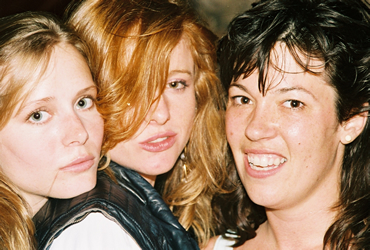 Anyways, with no further ado, here are some goodies to feast your eyes on for now. Many of these photos were featured on the DVD set, BUT many were not...especially the behind-the-scenes photos from SPM 2 (totaling to over 250 photos in all!). As you will notice, there are also photos graciously provided by Beverly Gray of her son as "Young Ken" with "Uncle Billy" from SPM 3 (which I am so excited can be shared with everyone finally). Also, script excerpts...YES! script excerpts from SPM 3 and even storyboards of Sarah's death scene - HUGE thanks to Sally Mattison, herself. You certainly didn't get to see those on the DVD set...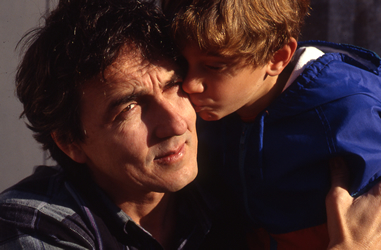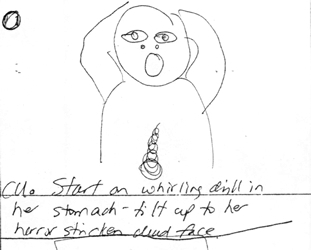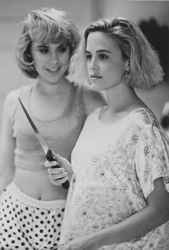 Lastly, I want to thank Jason Paul Collum for being there with me throughout everything leading up to, during, and after the whole SPM Collection experience. I hope that he and I gave you, the fans, exactly what you wanted...or at least got damn near close to it - because, believe ME, it wasn't all a picnic in the park and we put our blood, sweat, and tears into the entire project! I hope you all enjoyed it, and there are more surprises in store VERY soon! Click below to go to the sections currently updated/added to the site, with all of the aforementioned photos.


SPM 2 Publicity Photos (6 new photos)
SPM 2 Behind-the-Scenes (ALL NEW!)
SPM 3 Behind-the-Scenes (ALL NEW!, also with script excerpts & more!)


Discuss this in the Group

7-14-10

A big thanks to Craig Foreman for posting this really exciting news on the site's Facebook page! Forget the last update (except for the cover art, haha).

Here is the official synopsis/press release from Shout! Factory, with details about a very exciting extra if you order from their site. Forget my last update, pre-order your copy here!

All three films in one Complete Collection for the first time! This 2-disc Special Edition features new DVD extras including an in-depth, 3-part Documentary revisiting all films.

The ultimate driller-killer-thrillers are back!! In the terrifying original Slumber Party Massacre, a high school girl's basketball team is stalked by an escaped mental patient with a portable drill. In Part 2, the killer returns this time as a physical manifestation of a young girl's nightmares, slaying more teens in the guise of an evil rocker with a deadly guitar. And in Part 3, a new group of teenagers decide to have a slumber party when yet another unknown killer with a power drill begins attacking them.

Directors: Part 1: Amy Holden Jones, Part 2: Deborah Brock Part, 3: Sally Mattison

Stars: Part 1: Michelle Michaels, Robin Stille; Part 2: Crystal Bernard, Jennifer Rhodes; Part 3: Yan Birch, Brandi Burkett

Bonus Features:


New Anamorphic Widescreen Transfer of the Original SPM
3-Part Documentary
Photo and Poster Still Gallery
Trailers
Collectible Booklet

As a special thank you for ordering from ShoutFactory.com, we're giving away this amazing gift-with-purchase! It's a 30" x 20" (queen-sized) limited edition Slumber Party Massacre pillowcase! Perfect for when you invite your friends over for a triple-feature (because you know you won't want to sleep alone after). Offer valid while supplies last.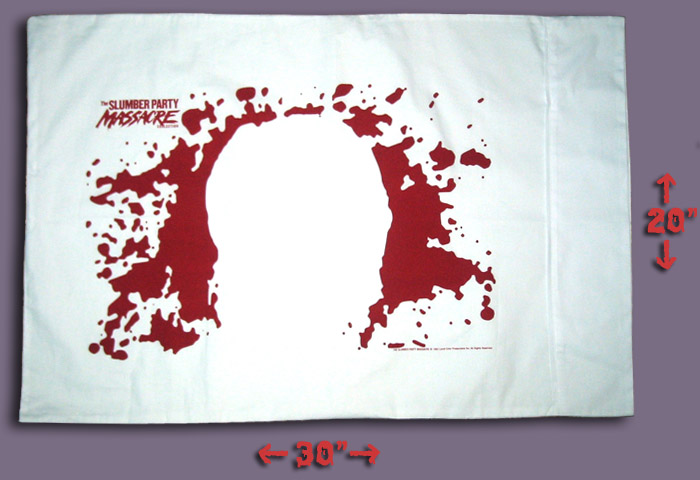 Discuss this in the Group

7-14-10

First off, I'd like to apologize for the lack of any updates over the past two months. Things got a little crazy for me for awhile, but I am now doing much better! Here's some exciting news for all of you awaiting The Slumber Party Massacre Collection, which will be released October 5th by Shout! Factory...the artwork!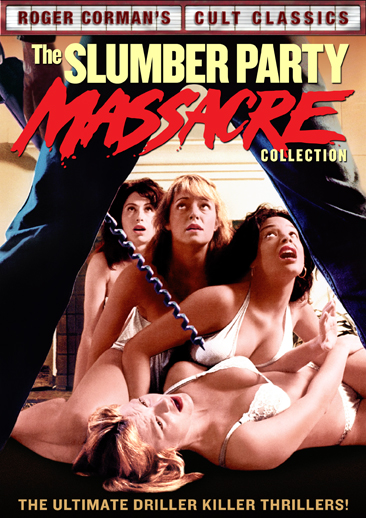 You can now pre-order the DVD set (which includes all 3 movies and Sleepless Nights: Revisiting the Slumber Party Massacres) for $22.49 on Amazon.com (price subject to change in the future). So, what are you waiting for? This is going to be a high-selling item, and you better get it while you can (especially if you never got the long out-of-print editions New Concorde released in 2000).

More news to come soon, and I promise I will keep you guys posted! Also, keep an eye drilled out for more goodies that were left out of Sleepless Nights (I didn't forget you, Adrian...happy belated birthday!).


Discuss this in the Group

5-5-10

Just a quick update to let you guys know about two movies that have been available on DVD for a little while. First is Michael Hoffman Jr.'s homage to the SPM and SHM movies, entitled Spring Break Massacre. I've been interested in seeing this film for quite some time, but since online movie rental outlets such as Netflix and Blockbuster only carry a limited stock of independent movies, I'm still waiting to see it! Hopefully, I will have a review for that coming very soon. For now, you can read some reviews here and here.

Second is Indestructible, directed by Matt Spease and starring my good friends Jade LaFont (Torment, Wolfika, The Inherited, and the upcoming Silent Vengeance, also by Matt Spease...oh, and a fellow "co-star" of mine in the upcoming Night of the Demons remake, haha) and Mimi Tran. This is available exclusively through Amazon, so if you're interested, be sure to click on the cover below to order - the same with Spring Break Massacre, which is available to buy via many online stores and is also available on Netflix and Blockbuster.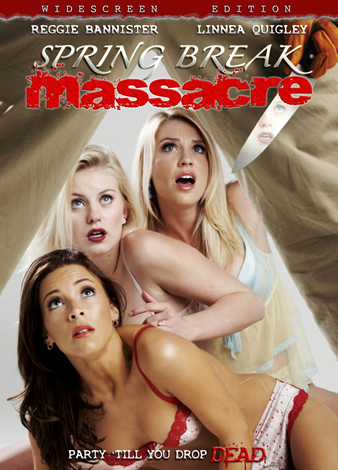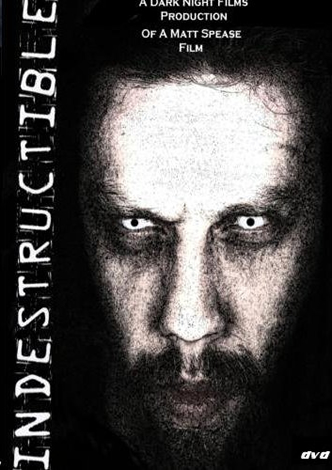 Discuss this in the Group

5-4-10

Tons of PREVIOUSLY UNSEEN photos just added for SHM, SHM 2, and Hard to Die - special thanks to Jason Paul Collum for these never-before-seen photos! You can also expect many unseen SPM photos to be featured in Sleepless Nights: Revisiting the Slumber Party Massacres and also on the site after the DVD set has been released!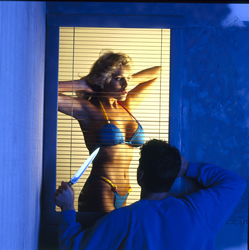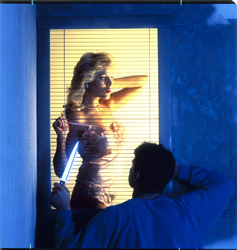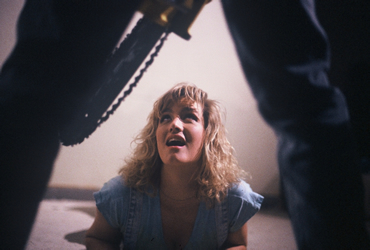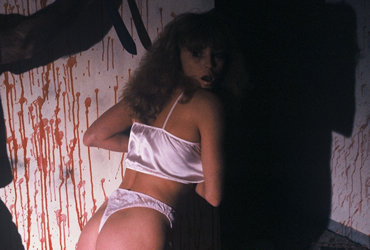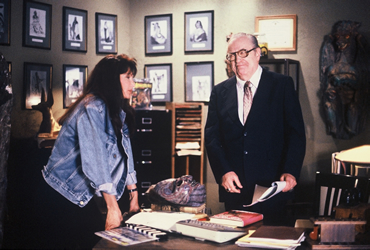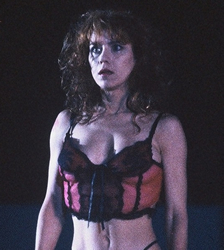 Discuss this in the Group

5-1-10

Here it is, boils and ghouls! Terribly sorry that it took me so long today to get this uploaded. Awesome job, Dustin - it's fans like you that keep the spirit of SPM alive! Great job to everyone else involved, also. PLEASE NOTE: THIS IS A FAUX/FAN TRAILER AND IS INTENDED FOR ENTERTAINMENT PURPOSES ONLY.








...and if you would like to download the video for yourself, please click HERE. Too bad this couldn't be featured in Sleepless Nights: Revisiting the Slumber Party Massacres. There's more footage from another die-hard fan, Adrian Najera, coming very soon!


Discuss this in the Group

4-30-10

Well, this is certainly shaping up to be THE year for SPM and, well, SHM fans too... I have now received news (thanks to Bruce Teitelbaum) that New Beverly Cinema will be having a double-feature screening of both the original The Slumber Party Massacre and Sorority House Massacre films! This is something that I'm definitely going to strive to attend, but I'm not sure just yet if I'll be able to travel or not. I was kinda hoping to have been moved to Los Angeles around that time, but we have lots more planning regarding all of that! Oh yeah, did I mention I wanted to move to L.A.?

Spread the word like wildfire...let everyone know by going to New Beverly Cinema's event page here. Be sure to select if you're definitely, maybe, or not attending...and invite some friends!

Once again, stay tuned for Dustin Ferguson's awesome Slumber Party Massacre IV: It Runs in the Family faux trailer, coming Saturday! And, if you missed it...click the below picture to download his fan-edit of Cheerleader Massacre, entitled Slumber Party Massacre Returns.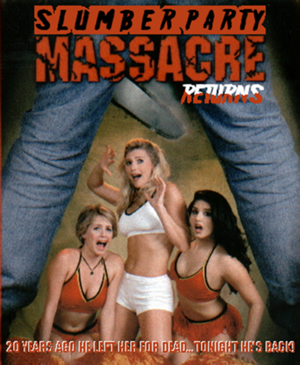 Discuss this in the Group

4-28-10

Some more updates before the clock strikes twelve (for me, at least). Probably the coolest out of all the things I just added are these hi-res scans I made of the double-sided promotional VHS poster for SPM 2, which Cliff MacMillan of Shout! Factory actually gave to me after they used it for the interviews which will be featured in Sleepless Nights: Revisiting the Slumber Party Massacres. Thanks again, Cliff - I had always wanted this poster.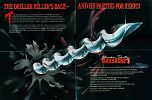 Also, check out the Various Pictures section for a few new additions, including another SPM poster lookalike (Slip of the Tongue) and more shots of the Hard to Die soulbox!


Discuss this in the Group

4-28-10

I am premiering Dustin Ferguson's faux Slumber Party Massacre IV: It Runs in the Family trailer this upcoming Saturday, May the 1st. Dustin's video, along with another fan's submission, are sadly being left out of Sleepless Nights: Revisiting the Slumber Party Massacres...so, the extremely creative and campy trailer will have its own debut right here on this very site! Dustin runs Retro Horror Remix and has also made a re-edit of Cheerleader Massacre, entitled Slumber Party Massacre Returns. It utilizes Ralph Jones's score from the original SPM and has been color-timed to seem older and more like an actual SPM sequel. You can download that from the "Also Available" section of his site, or simply click here. Stay tuned for Dustin's trailer, coming Saturday...and lots of other surprises are on their way, also!


Discuss this in the Group

4-26-10

Here is some exciting news I received from Jason Paul Collum, director/co-writer of Sleepless Nights: Revisiting the Slumber Party Massacres just a couple days ago. Sorry I'm so late getting this posted!

"I'm so happy to report post-production has officially wrapped on SLEEPLESS NIGHTS: REVISITING THE SLUMBER PARTY MASSACRES. I've just received word that all three SLUMBER PARTY MASSACRE films and the documentary will be released as a set by Shout! Factory on October 5, 2010. There were some fantastic fan-submissions which, unfortunately for varying reasons, we were unable to include, so instead we will launch them in their complete versions on this site in the coming months. So keep checking back."

Indeed, there will be some exciting fan material to be featured on the site very soon. I have a "Coming Soon" banner, well...coming soon (haha) to promote something that I think all of you will be really excited about. Stay tuned - I've been a very busy boy!


Discuss this in the Group

3-27-10

I'd like to take this update to help promote my good friend Brandon Ford's new horror/suspense novel, Pay Phone. Brandon has been a long-time fan of the SPM and SHM series and supporter of the site, so I thought I would help him out with his new release that is sure to be a page-turner!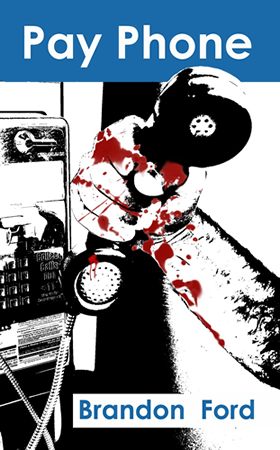 CLICK ABOVE TO VIEW PRESS KIT



You can purchase Pay Phone from the following sites:


Discuss this in the Group

3-20-10

Lots of cool, new stuff in this update. Such as a recent picture of the "legendary soul box" from Hard to Die, courtesy of production designer, Gary Randall: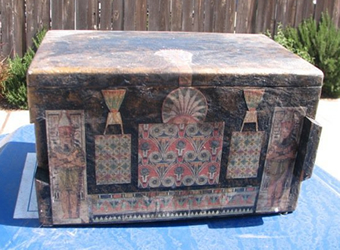 Current location shots of Coach Jana's house from SPM in the Location Shots section - thanks to Bruce Teitelbaum, whose house was used as Coach Jana's home (the exterior and interior do indeed match, BTW). Bruce was also the still photographer for Sorority House Massacre, and I can't wait to share some interesting stories that he and his sister (Sandy Fury, who was one of the uncredited sorority girl extras) have regarding SHM...along with some never-before-seen photos!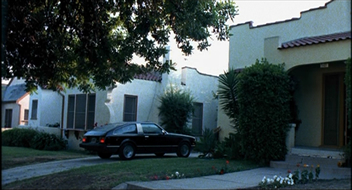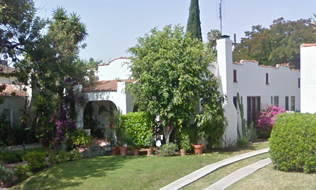 Some new fan-made DVD covers by Jeff Quick in the Fan Section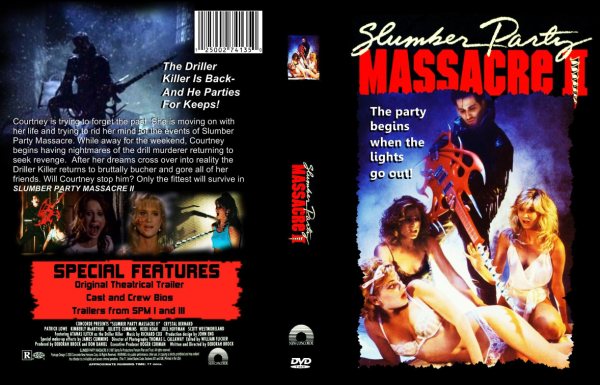 ...and last but not least, some new video covers are sprinkled throughout the galleries for Hard to Die, Sorority House Massacre, Sorority House Massacre II, and Slumber Party Massacre III. Also, I found this very cool publicity photo from Hard to Die:




More awesome stuff to come very soon! Stay tuned...


Discuss this in the Group

3-5-10




Click the above image of Maria Claire (Susie from SPM 3) to view her in a 1990 episode of Dragnet, titled "Living Victim." She plays Gail Strickland.

On other SPM 3 related news, I'm currently trying to track down Keely Christian and Brittain Frye from some addresses I have found online. If anyone can help with their whereabouts, please e-mail me.


Discuss this in the Group

3-2-10

Thought everyone would like to see who was all invovled with the upcoming SPM DVDs:

The Slumber Party Massacre


Amy Holden Jones (Producer/Director)
Debra DeLiso (Kimberly Clark)
Brinke Stevens (Linda)
Michael Villella (Russ Thorn)

Slumber Party Massacre II


Deborah Brock (Writer/Producer/Director)
Kathleen Courtney (Production Coordinator)
Don Daniel (Producer/Assistant Director/"Mr. Damnkids")
Beverly Gray (Story Editor)
Heidi Kozak (Sally Burns)
Jennifer Rhodes (Mrs. Bates)
Scott Westmoreland (Jeff)
Kristi Callan (Lead singer of Wednesday Week's "If Only" and "Why")

Slumber Party Massacre III


Sally Mattison (Producer/Director)
Beverly Gray (Story Editor)
Yan Birch (Weirdo)
Brandi Burkett (Diane)
Hope Marie Carlton (Janine)
Garon Grigsby (Michael)


Discuss this in the Group

2-26-10

Just a quick update to let everyone know that the new DVD re-releases' special features and release date mentioned in the Fangoria article are not set in stone. I've noticed the same set of features and information listed on many sites, and I just wanted to let everyone know that even though we're all trying to make a lot of those features a reality, some of them may not actually even be on the DVDs. Don't worry though...these DVDs will blow the barebones New Concorde releases out of the water!


Discuss this in the Group

2-22-10

A quick update to let everyone know that the SPM shoot at Shout! Factory went amazingly well, along with the visit to Trish's house and the high school. We actually got to go inside Trish's house, and the commentaries were a blast to moderate... You'll get to see/hear everything as soon as the DVDs come out!

Also, take a look at this neighborhood I visited while in L.A. Look familiar?



Lastly, I wanted to make this update to inform everyone of some very interesting trivia Jim Wynorski filled me in on, over in the Trivia sections for SPM 1, SHM 1, and SHM 2.

I'll have more to come very soon, so stay glued to your computer screen! Be sure to leave lots of comments on the video and check out some exclusive (well, until I get them uploaded here) pictures at the Facebook Group.


Discuss this in the Group

1-27-10

Some very interesting news regarding David Lawrence (Frank from SPM 3) in the SPM 3 Cast section, along with an updated photo of Garon Grigsby (Michael)!


Discuss this in the Group

1-27-10

I added some new goofs for SPM 3, one of them very interesting and hilarious! And...I updated the Trivia for SPM 3.

Needless to say, I am still very excited about my upcoming trip to L.A. to work on the SPM DVDs for Shout! Factory (in 9 days!)... If anybody has any suggestions as to what should be asked in the interviews, anything that should be brought up during the commentary tracks, anything you'd like to see on the DVDs...anything...e-mail me or visit the group and leave a comment!

Anyone that can provide help contacting the following people, your help would be greatly appreciated (e-mail me if you can help!):

SPM 1:

Andree Honore
Gina Mari (Gina Smika Hunter)
Michelle Michaels
Jennifer Meyers
Rita Mae Brown (writer)

SPM 2:

Crystal Bernard
Kimberly McArthur
Patrick Lowe
Atanas Ilitch
Joel Hoffman (teacher at Reedley High School in CA)

SPM 3:

Keely Christian
Lulu Wilson (fake name)
Marta Kober (missing)
Maria Claire
Brittain Frye
David Greenlee
Michael "M.K." Harris
David Kriegel
David Lawrence


Discuss this in the Group

1-22-10

HUGE news - the Slumber Party Massacre series is going to be re-released as special edition DVDs by Shout! Factory (tentatively scheduled to come out sometime later this year), and I will be leaving for Los Angeles on Feb. 5th to work as producer on Sleepless Nights: Revisiting the Slumber Party Massacres, alongside Jason Paul Collum who will be directing...and I am also moderating commentary tracks for all 3 films!!! We've got some very exciting names attached so far, and we are going to do everything in our power to make these DVDs as jam-packed with extras as possible.

Also, please do not forget to enter the fan contest we are running for the documentary! And... read this article Fangoria posted on their news blog here announcing the release! I can't wait and have been busting at the seams to announce this awesome news for quite some time! Many thanks go out to Cliff MacMillan of Shout! Factory and Jason for this wonderful opportunity!

Keely Christian, Crystal Bernard, Jennifer Meyers, Michelle Michaels, Michael Villela, Gina "Mari" Smika Hunter, Andree Honore, Atanas Ilitch, Patrick Lowe, Kimberly McArthur, Brittain Frye, Maria Claire, ANYONE we haven't already been in touch with...if you're out there somewhere, get in touch with us because we have searched high and low for all of you and would love for you to be involved! We actually have a search up here for all of the people we are currently wanting to be involved!

My e-mail is thiefofhearts86@hotmail.com and I also have Facebook and MySpace pages!

Oh, and shame on me forgetting the site's 9 year birthday yesterday...happy birthday to The Old Hockstatter Place!!! haha


Discuss this in the Group

1-6-10

Check out these recent photos of Hope Marie Carlton (Janine, SPM 3) and Atanas Ilitch (The Driller Killer, SPM 2):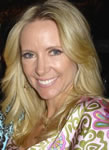 Discuss this in the Group

12-14-09

Exciting news regarding the whereabouts of Joe "Neil" Johnson in the SPM Cast section, along with a recent photo and resume for Gina Smika Hunter, who played Diane in SPM! And...this is a little late in the game, but I've added a recent photo of Angela O'Neill (Beth from SHM) to the SHM Cast page.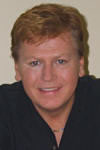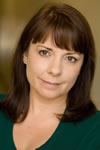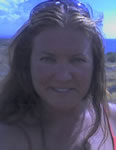 Many thanks go to Debra Deliso for helping me contact Joe! :-)


Discuss this in the Group

11-20-09

If you don't already own any of the SPM or SHM movies on DVD, head on over to Amazon right now! New Horizons Pictures - Roger Corman just launched a few days ago, and they've been selling a lot of their out-of-print DVDs for $14.98 and some of them are $12.98! Currently, the first SPM is unavailable but it was on there a few days ago...so hurry if you want to buy any of these! I'm sure there is a limited stock of all of these titles. Also, other sellers are selling new copies of SHM at affordable prices but Hard to Die is M.I.A. at the moment. I did see it a few days ago, I believe...so keep your eyes peeled just in case! That is the hardest one to come by.


Discuss this in the Group

11-5-09

The interview with Debbie Dutch is finally up...sorry it took 2 months to post! Many thanks go out to Debbie for doing the interview and being such an awesome person!



Discuss this in the Group

10-12-09

Happy Halloween time, everyone!! I'm very excited to say that I will be calling into Awfully Entertaining tonight to talk about the original Night of the Demons and being an extra in the remake! The show airs @ 10:30 PM CST / 8:30 PST / 11:30 EST and I'll be calling during the last 15 minutes. Director Kevin S. Tenney will be a special guest...and as always the awesome Jeff Dylan Graham and fabulous Michelle Fatale will be the hosts! Be sure to listen below:




Discuss this in the Group

10-6-09

Jeff and Michelle mentioned me and the site again on Awfully Entertaining last night while discussing the 1986 cult classic, Trick or Treat...listen below. They mention me 24 minutes into the show... Thanks, guys!




Discuss this in the Group

9-16-09

The other night, actor/director Jeff Dylan Graham and Michelle Fatale mentioned the site on Awfully Entertaining, their new horror blog talk radio show. Listen below, and thank you guys so much!!! I'm so flattered that people that actually work in the business visit the site...too cool for words. So everyone, give it a listen...it's a whole hour of them talking about the SPM movies, and they say some pretty funny shit! I hope to be able to call in for Part 2 of the SPM discussion in October! BTW, they mention me around the 41:40 mark right after they start discussing SPM 3 and Brandi Burkett.




Discuss this in the Group

8-25-09

Check out the newly opened Facebook Group for the site! I felt this would be a great way for fans of the site to communicate with one another and discuss the site, movies, and other related stuff. Feel free to add photos and videos related to the SPM and SHM franchises! Also, if anyone was missing my Linnea Quigley tribute page, here it is!

8-18-09

Check out the website and MySpace page for this cool homage/parody of SPM!

"Psycho Sleepover" is a horror/comedy feature film directed by Adam Deyoe and Eric Gosselin. After accidentally murdering her boyfriend, Debbie Dicky, moves to a new town and meets three girls who invite her to a sleepover. The very same night there is a breakout at the local insane asylum where forty serial killers escape and head over to crash the party. However, the girls at the slumber party might not be as helpless as the killers think.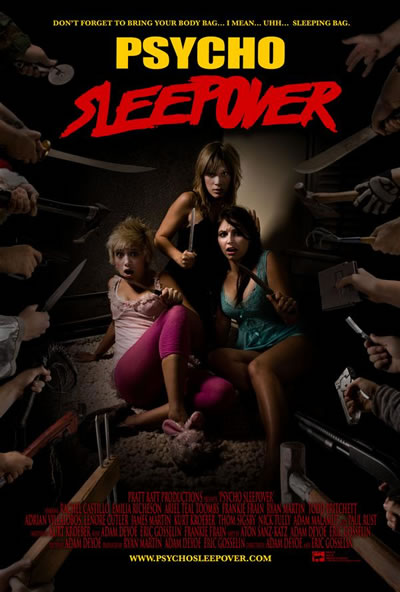 6-22-09


Truly one of the most anticipated interviews I've ever conducted...none other than the director of the original Slumber Party Massacre...AMY HOLDEN JONES!

Thank you very much, Amy! And everyone be sure to check out the poster galleries for SPM, SPM 2, SHM, SHM 2, and publicity photos section for Hard to Die where you'll find cool new additions, such as this: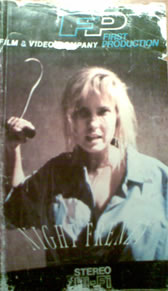 Thanks to Serbian fan Djordje for the above picture, there's more SHM 2 cover scans he sent me as well so be sure to check those out. The Fan Section and Various Pictures sections have been updated, also.

5-19-09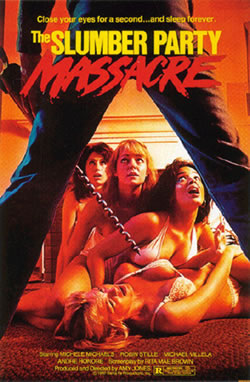 Here is some interesting news about the original prologue scene of SPM that I posted on the Trivia page - big thanks to Amy Jones...and I bet you can guess who I'm gonna interview soon!

A short "prologue" scene, which ran approximately 8 minutes, was originally shot by Amy Jones but ultimately not used in the film. Here are some details from Amy Jones, herself, which explains the radio announcement at the beginning and why the film didn't turn out quite like a horror spoof:

"The opening I shot and gave as a reel to Corman, which got me the job, had a Ouija scene in it. I don't have a copy. He probably tossed it out. We couldn't use it in the film because I'd done it with non-SAG actors. The same actor was the killer, however. It looked far fancier than the final film because my husband, a famous cinematographer [Michael Chapman], shot it. He didn't shoot Slumber Party, so it was a good deal more primitive.

Shooting the opening was great fun. We had a tiny crew including myself, my husband and our neighbor Howard Chesley who took sound. We shot it in the house we were renting in the Venice canals. As I now remember, it was a tarot reading among hippies with a bad outcome, (probably the death card), suspense as you sensed someone was in the yard, a series of deaths in the house. I remember creating the special effect ourselves of a knife or hatchet going into a head using a styrofoam head and wig. It worked surprisingly well. We did it in two or three nights and it was about 8 minutes long. I cut it on Joe Dante's flatbed as he was doing The Howling and he lent me some cues for the temp dub, also done on the KEM. All this would be easy today with HD. The cast were students, non SAG, which doomed the thing to never be used.

The opening was a rewritten version of the opening of the Rita Mae Brown script, Don't Open the Door, which I did a huge rewrite on later to make SPM. It was a "prologue" establishing the killer years earlier. I don't really remember Rita's draft. The bones of it were similar but it was a big rewrite. I didn't take screenplay credit and it was the first thing I ever wrote."

Also, I just added some screenshots comparing the IFC broadcast to the New Concorde DVD of SPM to the Alternate Versions page. Here's four random pics I snapped: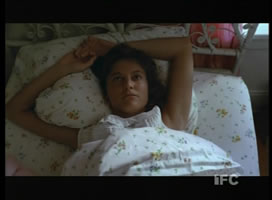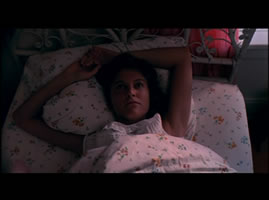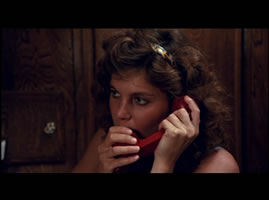 5-18-09
"Hiiii, neighbor! Long time, no see..."

Those were the words uttered when Clive Hockstatter...um, er...Hochstatter, reunited with his old neighbor, Orville Ketchum via Melissa Moore's possessed body in SHM 2. Speaking of Melissa Moore, I have something interesting coming soon to the site and I plan on cleaning up The Old Hockstatter Place, along with adding some new stuff here and there.

The reason I second guessed the spelling of Clive's surname stems from the fact that I've been mis-spelling it for nearly the past 8 years! Listen to what Jim Wynorski had to say when I asked him about the correct spelling:

"The original spelling was Hochstatter, The character of [Clive] Hochstatter was named partially after Zoran Hochstatter, who was the director of photography on Sorority House Massacre 2. The name Orville just popped into my head when I was writing the first draft of the script."

...and if I already had that posted elsewhere on the site, sorry. It's been awhile and I'm looking at some of the stuff on here and saying to myself, "Huh, what? I don't remember that!" But, no, the site will remain The Old HOCKSTATTER Place @ www.hockstatter.com - I should've paid closer attention to SHM 2's credits, oh well...

Update (2-17-10): Just realizing that I'm still technically right about the spelling of "Hockstatter" haha!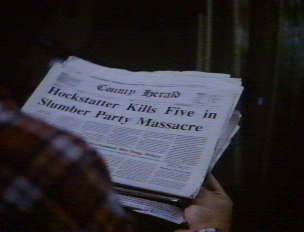 Here is one thing that hasn't been featured on the site yet...you can now view the street SHM 2 was filmed on (courtesy of Google Maps), along with such other movies as Evil Toons (the house next door) and The People Under the Stairs (the house across the street)...another one belonged to Mr. Orville Ketchum himself, right across from the Hockstatter house! Type in "2200 South Harvard Blvd, Los Angeles, CA" into Google Maps or go here.

Both houses scream, "Buy me, buy me!" Maybe one day when I have enough money and can re-locate to L.A. - yeah, right... I'll just keep dreaming. Fred Olen Ray (director of Evil Toons) had some interesting info on the houses:

"...they stand side by side and are/were owned by the same family. The basement in the burned out house (Evil Toons) was the basement everyone used, regardless which house was being filmed in as there was only one basement between them. They were slowly rebuilding the inside of the burned house, but I haven't been there in ages.

The houses had been acquired for next to nothing, but the city required a certain amount of restoration be put into them to qualify for the deal. The family that lived there was strange and did very little in the way of "fixing up" around either property.

The house across the street was truly scary. I scouted it and found the inside littered with chicken feathers and dirt... very creepy. I couldn't wait to get out!

But anyhoo, I thought that was really cool. Thanks to the guys at The Retromedia Forum for all the help and info! And I took some screenshots of the houses for nostalgic reasons, to show what they looked like nearly 20 years ago!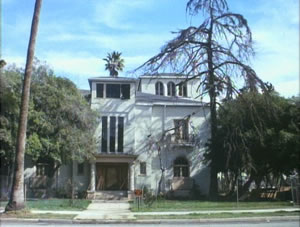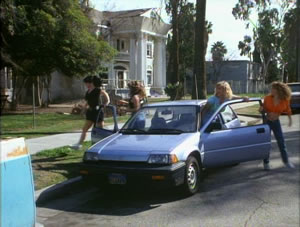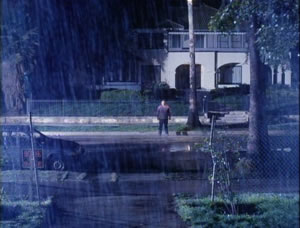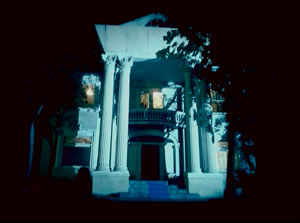 10-9-08
Sorry, SPM/SHM enthusiasts! This isn't a Hockstatter update but rather an update on the upcoming Night of the Demons remake, which I'm very excited about. I was a featured extra in the movie and you can check out my pictures at my MySpace page or click the picture of me and Tiffany Shepis below: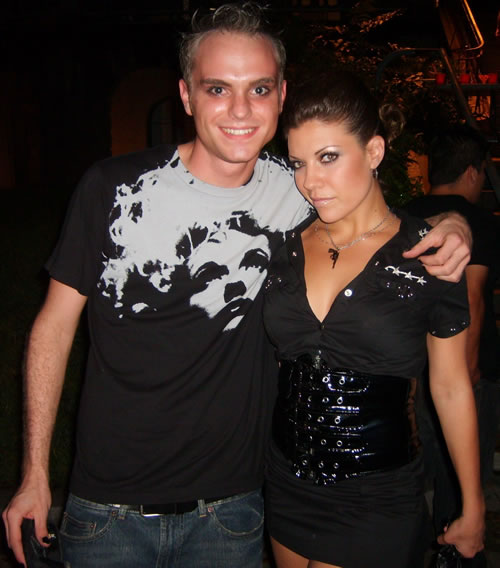 5-7-08
All of my pictures from the Chiller Convention in Parsippany, NJ, are now up! Click the picture of Tiffany Shepis and I below to see what an awesome time I had: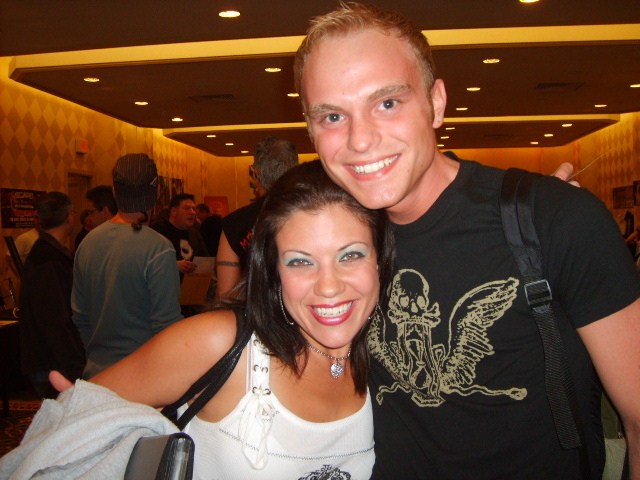 4-15-08
Hey, guys. Not a real update but just letting you know that I'm now selling some stuff on eBay. Give me some time though, because I'm kinda new to it - but I plan on putting a bunch of stuff on there - click here. Happy bidding!

3-2-08
The forum is back up, thanks to John from Retro Slashers who made me my own section on his own forum! Get to posting, people! Let me know what you'd like to see more of on the site and discuss the movies.

2-17-08
The interview everyone's been waiting for...hopefully! Click below to read what Mr. Damnkids had to say about his experience working on Slumber Party Massacre 2:



And yes, it's official! After seven years, the site now has its own domain: hockstatter.com Please be sure to update all your bookmarks and links, and thanks to those who still visit and enjoy the site and for all the nice comments I've received over at the Retro Slashers forum.

Some updates to the following sections:


Various Pictures

11-26-07
Brandi Burkett e-mailed me yesterday, and I thought you guys would all like to see what she had to say:

Thank you for the kind words on your website. I just wanted to update you and let you know that I am more than okay health-wise. My breast cancer was stage 1, and I caught it early. I was very lucky. :) As of late, I am working on a novel, and post various blogs on myspace regarding life, relationships, and......stuff. hahaha Feel free to check it out. I am also planning to build my own website any day now. Writing has become my latest passion, and I appreciate all the support you and any fans have given. I am woman, hear me roar !!!! :)
Sincerely,
Brandi Burkett
myspace.com/brandiburkett

Hope you're well. THANK YOU. God Bless.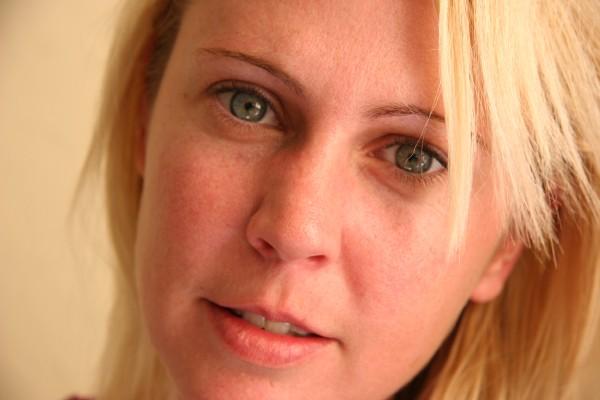 Also, look out for an interview with Don Daniel, who was the producer, assistant director, and Mr. Damnkids of SPM 2, in the near future!!

8-10-07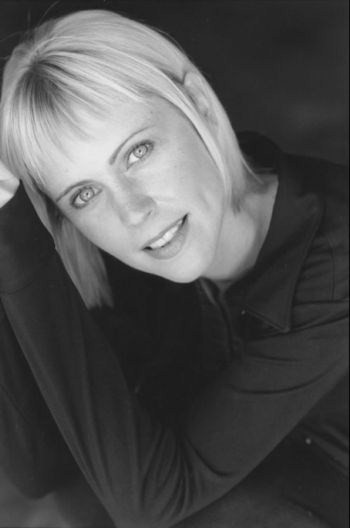 I've recently been informed by Jason Paul Collum that Brandi Burkett from SPM 3 is currently battling breast cancer. Please keep her in your prayers, and let's hope she makes a full recovery soon!

7-31-07
The rest of Devon's SPM adventure continues with the discovery of the high school. Click picture below...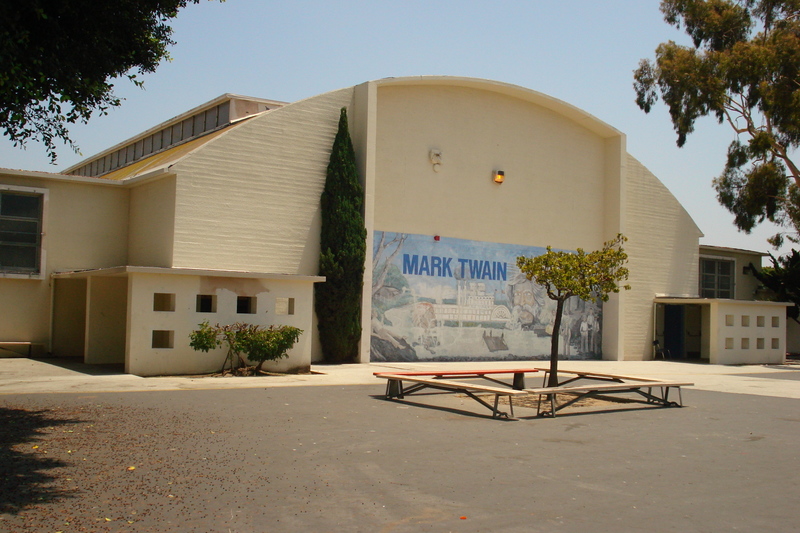 7-18-07
My online friend Devon was very nice to supply me with some pictures of his recent trip to some of the locations used in SPM. Click on Trish's house below to see for yourself!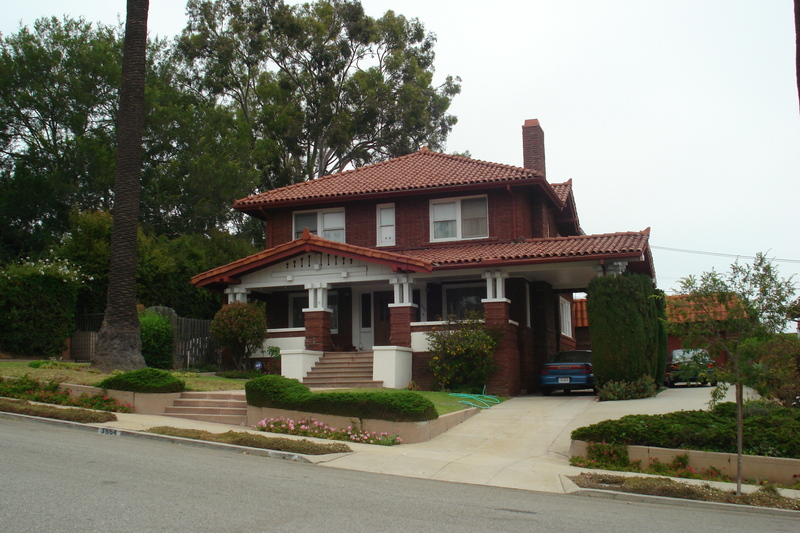 4-25-07
Jim Wynorski was kind enough to send me the scores for Sorority House Massacre 2 and Hard to Die, but I was only allowed to upload eight tracks from each movie. Click here to download what I think are the best tracks from Chuck Cirino's soundtracks for the movies.

4-21-07
More news on SPM 4 today...which is something I'm fearing isn't a past project that was just retitled by New Concorde. This is what Jason Paul Collum had to say...

all i know about SPM 4 is that I called them about a month ago to see if I could option the rights to the series to produce Parts 4 & 5 for B+Boy Productions and was informed they had decided to resurrect the series with the current plan to make new sequels every 18 months. They had just wrapped SPM 4 about a week prior and were planning to have it to Cannes (I think) to seek distribution. So, for SPM fans it's good, but for me it's irritating...always just a few steps behind.... ;-(

Jason also informed me of some interesting SPM 2 related news:

Heidi Kozak of SPM II now owns a business selling boxes of inspiration cards/games, from which a percentage of the profits goes to childrens organziations. One of her new box sets is the SLUMBER PARTY box... wink wink. Check it out here... http://www.theboxgirls.com/site/shoponline?product=slumberbox - sadly, there's no massacre included... ;-)

4-19-07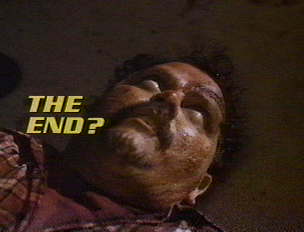 No, this is not THE END! As you can see, many of the broken links on the site are now fixed. I was just being lazy, and it was way past time that I do something about it. Eventually, everything on the site should be working fine.

As for SPM news, Jason Paul Collum has informed me that Concorde has apparently shot SPM 4 and are looking for distribution deals. I will definitely be looking into that for you guys. And Jim Wynorski recently sent me the scores for SHM 2 and HTD, so look forward to excerpts from those scores very soon!

See, I haven't let you fans down!

4-12-07
Nearly two years and no update. What the hell?! Well, here's some videos I recently uploaded to my YouTube Channel.



Wednesday Week - If Only (Fan Video by Me!)


I GOT SLUMBER PARTY MASSACRE!!! (Christmas 1996 - yes, that's me...)



9-24-05
My friend Carrie has recently made a little website for Sorority Babes in the Slimeball Bowl-o-Rama. If you're a fan of Robin Stille's, Andras Jones, Linnea Quigley, Michelle Bauer, David DeCoteau, etc., or just the film in general, give it a look right away!

9-11-05
Take a look at the new Yahoo! Group for Melissa Anne Moore.

8-31-05
Some new additions to the poster galleries for SPM and SPM 3, including French DVD covers and another scan of the SPM poster.

8-21-05
The first SPM is currently being shown on the IFC channel, in what I believe is the most uncut form available (some extra things here and there, including the radio scene). If you missed it last night, you can catch SPM, along with all the other movies on August 27th, as part of IFC's '80s Horror Marathon at 2:30 AM ET. Visit their site to see the entire schedule. You can also view a clip of Diane getting what she deserves for being such a "snob."



Also, many thanks go to Natalie for providing a picture of Robin Stille's grave - which I have put in the SPM Cast section. And if you're confused as to why there's a few different versions of SPM floating around, I gave a rundown of the running times for certain versions, along with differences described on the rest of the Alernate Version page.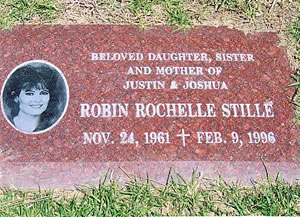 4-28-05
OHP visitor Dave Grubka recently e-mailed me some weird SPM-related news:

The Screen Actors Guild (SAG) has a database of performers who have cash residuals coming to them from work they had done many years ago. However, if a performer doesn't keep their contact information with SAG updated, their residuals are in limbo until they discover them or a relative or heir can collect them upon the performer's death. Anyways, I was browsing the list of performers and 4 "Slumber Party Massacre" actors are MIA but have money owed to them:

1) Keely Christian (Jackie, Part III)
2) Brittain Frye (Ken, Part III)
3) Patrick Lowe (Matt, Part II)
4) Robin Stille (Valerie, Part l)

The fact that it's been over 9 years since Robin's death and not even a member of her family has claimed her earnings is very, very sad in my opinion. :(

Dave Grubka

Also, some interesting SPM 3 trivia!

4-27-05
A cool guy named Matt recently sent me links to his sites for his horror-themed artwork. He sells t-shirts, comic strips, paintings, and all kinds of cool stuff--so give it a look.


The Horror Comic

3-23-05
Be sure to check out a new project by my sister and I. Long-time visitors may remember it. It's a little review site, called Stabbed!

Right now, we are just focusing on content. We will work on design and all that good stuff, like extras, video captures, what-have-you, soon enough. Now, you can read my review for 1981's Final Exam. Be sure to sign up and add your own horror reviews!

10-12-04
Some new additions to the following sections, thanks to your's truly:

SPM Poster Gallery
UK DVD cover scans
SPM 2 Poster Gallery
"Massacre Collection" Reissue scans
SPM 3 Poster Gallery
"Massacre Collection" Reissue scans
Various Pictures
"Massacre Collection" SPM 3 tape scan

7-12-04
Some pictures finally added to the following sections:

SPM Poster Gallery (UK DVD Front and Back Scans)
SHM Poster Gallery (UK DVD Front and Back Scans)
Various Pictures (SPM 8x10 Still Collection from eBay)

Also, check out the spiffy banner I made for the SPM section. I made this awhile back and just rediscovered it. Perhaps I'll make new banners for the rest of the movies as well. If I can ever find some more free time on my hands, what with working and socializing and all. I'm not complaining though. I still love the site.