---
The film is also available in an unrated version.
The DVD version has seven extra minutes intact. Scenes include more of the party, the girls talking on the back porch, more of the cops, etc. Watch video clips of some of those scenes.
The interior of Jackie's (Keely Christian) house is also used in Sorority House Massacre 2.
The trailer reuses footage from Sorority House Massacre.
Diane (Brandi Burkett) was originally supposed to live.
Notice anything interesting in the cast line-up for Keely Christian's short-lived 1989 sitcom, A Brand New Life?

Cast (in credits order)

Barbara Eden .... Barbara McCray Gibbons
David Tom .... Bart McCray
Don Murray .... Roger Gibbons

rest of cast listed alphabetically:

Brandi Burkett
Keely Christian
Holly Fields .... Tammy
Lee Garlington .... Linda
Jennie Garth .... Ericka McCray
Shawnee Smith .... Amanda Gibbons
Alison Sweeney .... Christy McCray
Byron Thames .... Laird Gibbons

It also featured Brandi Burkett!! Not only that, but there's also some stars from two of my favorite movies, I Saw What You Did (the fantastic TV remake) and Seven Minutes in Heaven--Shawnee Smith and Byron Thames, respectively. Oh, and Sammy from Days of Our Lives, lmao. Thought I'd share that tidbit. Thanks to IMDb
Information regarding the shooting locations from Sally Mattison:
The interior house scenes were shot on sets at the Concorde studio in Venice. The beach scene was shot on Venice Beach.
Notice anything funny in the picture below? ...Oil Drilling...maybe just a coincidence?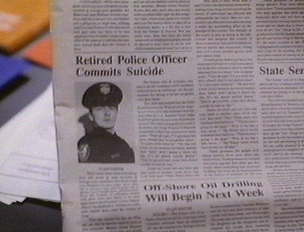 Beverly Gray (story editor for the film, along with Slumber Party Massacre 2, Sorority House Massacre 2, Hard to Die, and possibly the first Sorority House Massacre) is the mother of the boy featured in the photograph of young Ken. Visit her site here.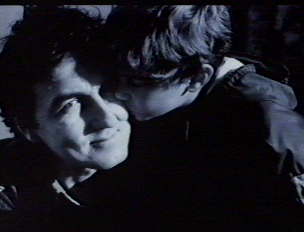 Visit the Femme Fatales page to get a bunch of trivia on all the SPM movies.
---
[Home][The Slumber Party Massacre][Slumber Party Massacre 2][Slumber Party Massacre 3][Sorority House Massacre][Sorority House Massacre 2][Hard to Die][E-mail]
---
© 2001 to present, The Old Hockstatter Place

This site is completely unofficial, and is not endorsed by anyone affiliated with the Slumber Party Massacre or Sorority House Massacre series - both © New Concorde/Horizons. All site material was produced by the webmaster, unless otherwise noted. Images, sounds, etc. are to be uploaded to your own server if used on other sites, along with credit to their rightful owners. Site best experienced using 800x600 or 1280x1024 resolutions with Internet Explorer.