Brinke Stevens is very well-known to horror and B-movie fans alike. One of her first films happened to be SPM in which she proved her future Scream Queen status. This was really a dream come true to interview an actress I've always admired... Many, many thanks go out to Brinke Stevens for doing the interview with me, along with Jason Paul Collum who helped me in contacting Brinke.


Visit Brinke's official site - www.Brinke.com
---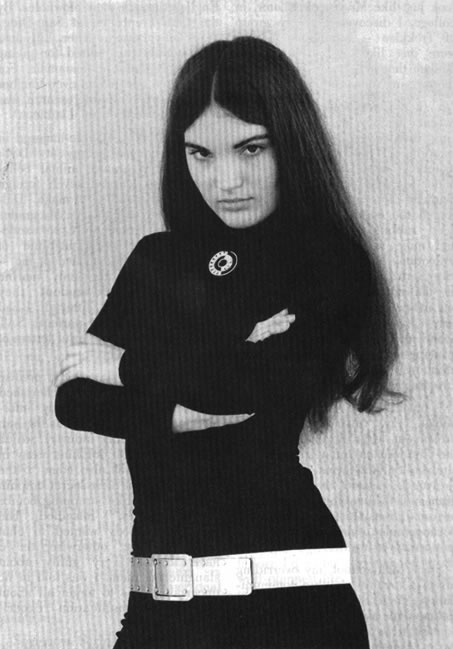 Q: Could you provide some insight to your childhood?
A: I grew up in a small town (pop. 400) outside of San Diego, CA, in the early 1960's. I bicycled to the local library and got a stack of science fiction books every week. I hunted for sea fossils in the hills, and I dissected roadkill to study under my microscope. (Since age nine, I owned a microscope and a pretty elaborate chemistry set. Born to be a science techno-nerd, obviously.)

Needless to say, I didn't have a lot of friends. Early on, I was convinced I'd been dropped off by aliens who would someday return for me… but they never did. In high school, I wanted to become an astrobiologist, the first woman on a space ship to study alien lifeforms. When the space program clearly wasn't keeping pace with my ambitions, I switched to marine biology in college to study Earth's last unknown frontier.

Q: What type of ancestry gave you your striking and exotic looks?
A: I'm three-quarters German and one-quarter Mongolian -- small, dark, with olive skin and almond eyes. The rest of my family is tall, pale, blond, and blue-eyed. The neighbors all falsely assumed my parents had adopted a Korean orphan.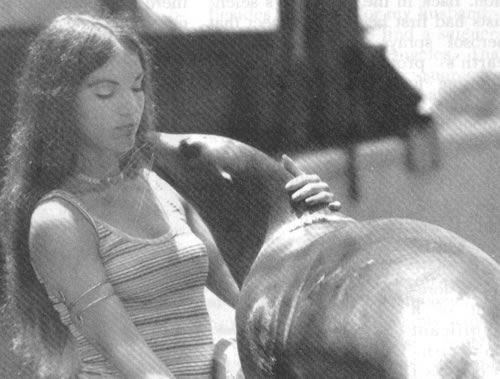 Q: Having gained a Masters Degree in marine biology, what was the overall feel of studying all of the water mammals and such?
A: Dolphins, in particular, are an exquisite race… smart, playful, and very soulful. Seals, on the other hand, are more like cats – they'd sell their mother for a bucket of fish. Sea otters are juvenile delinquent punks; they'd grab crab shells and scratch graffiti on the Plexiglas tank walls (…very bright, and easily bored).

Q: "The Slumber Party Massacre" was your big introduction into the world of horror movies. What was the overall experience like?
A: I moved to Hollywood in 1980 to marry ROCKETEER artist Dave Stevens. I'd still hoped to find a science job in Los Angeles, even after my divorce. One fateful day, I walked by a casting office – they took one look at me and hired me for a movie job the next day. A couple months later, I landed a good role in SPM -- and it was that pivotal experience which convinced me to forget science and seriously pursue acting.

I'd loved horror movies since high school (especially Hammer films). While I wasn't really into the blood and violence aspects of slasher flicks, I was excited to be a part of it. From about 1979 to '83, there was a good run of such slasher fare – and we were right there with 'em.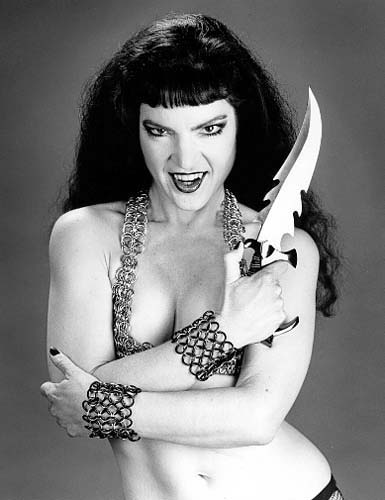 Q: Which role did you have to turn down in SPM, due to scheduling conflicts?
A: I did very well at the first audition, and director Amy Jones wanted to cast me as one of the leads. She wasn't sure which one yet. Unfortunately, I had to fly up to Lake Tahoe for a modeling assignment during the middle of their shooting schedule – so I had to accept a lesser part, where I was murdered quickly.

Q: Concerning the satirity of SPM, what were some gags/jokes you noticed that were thrown about in the film?
A: The crew had a field day with normal school signs – like "Join the Drill Team!" and "Emergency Drill Instructions" – which they carefully placed in the background of certain shots. One is posted outside the towel-room door, as the killer shoves his drill bit in towards me.

Q: Do you have any memorable experiences while on the set of SPM?
A: On the day I died, I was covered in sticky sweet, blood-red Karo syrup. We broke for lunch, and every flying insect on the block hunted me down and stuck to me.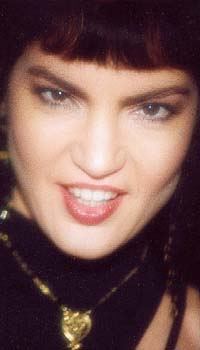 Q: How many days did you work on the film?
A: I only worked for three days – in a basketball game, a shower scene, chatter in the locker room, a walk across the schoolyard, then my climactic chase through the corridors and ultimate (off-screen) death in the gym's towel closet.

Q: Was your death scene always intended to be offscreen, or was it cut?
A: They never planned to show me die. I went out to the parking lot with the sound-guy, where I screamed into a microphone for about 45 minutes. My horrible off-stage scream had to tell the tale of my brutal death – and ironically, I perfected the art of screaming on that very day… soon destined to gain fame as a "Scream Queen". How perfect!

Q: Can you remember what the assembled cast and crew were like? What was it like working with Michael Villela, the "Driller Killer," the SPM girls, such as Michele Michaels (Trish), and Amy Jones, the director?
A: Director Amy Jones looked like a gangly teenage boy, but she ran the show in a very decisive and competent manner. Michael Villela went out of his way to stay 100% in-character – dining apart from the girls, giving us evil stares, stroking his ever-present drill bit. The other actresses were nice, cooperative, and natural talents. Sadly, you don't really get to know people in a mere three days.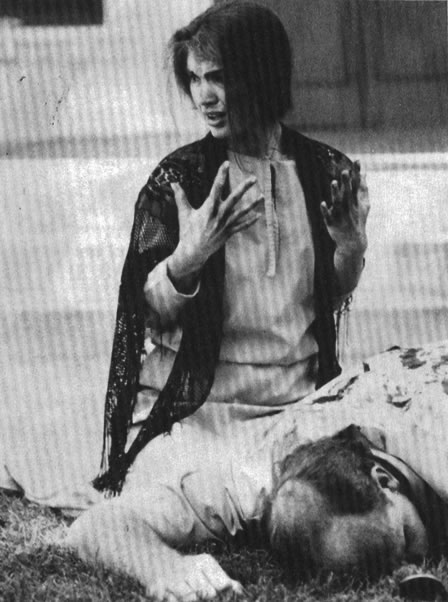 Q: Do you keep in contact with anyone who was involved with SPM or know what anyone is up to these days?
A: I saw Robin Stille again a few years later on SORORITY BABES. But I never ran into any of the other actors over the years… odd, since it's such a small world. I was pleased to see that Amy Jones directed LOVE LETTERS, but I haven't heard much about her lately. Author Rita Mae Brown is, of course, rather famous, and I've enjoyed many of her fiction books, especially the ones with cats.

Q: What was it like to work with Robin Stille/Rochelle (R.I.P.) on both SPM and "Sorority Babes in the Slimeball Bowl-o-Rama?"
A: I always liked Robin. She seemed so much more sophisticated and worldly than other gals her age – tall, blonde, and gorgeous; she dated a major Las Vegas star, and dared to sneak vodka onto the set (of Sorority Babes). She was both sweet and tough. I was so shocked to hear about her disillusionment with Hollywood and ultimate suicide… what a waste of a promising life.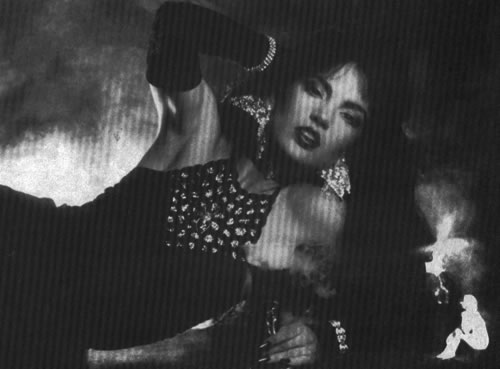 Q: What was your reaction when you were approached by Jason Paul Collum to participate in the "Femme Fatales" SPM retrospective?
A: Jason Collum started out as my fan. We first met at an early-90's Chicago convention. (In fact, most of my current best friends started as fans, since I don't get out much….) Before he moved to LA to pursue filmmaking, he sent me a draft of SPM4… wherein my character survived the ordeal and soon faced a new onslaught of teen killings. Later, JC pitched his idea to Concorde Films, and single-handedly orchestrated the FEMME FATALES articles and photo shoot. I so admire his enthusiasm and tenacity. I wish the rest of the world was up to speed… it seems the early-'80's slasher craze isn't cool again just yet. Maybe soon….

Q: Do you own much memorabilia from the films you've done (esp. SPM)?
A: No, it's very hard to take home movie props or costumes. They make you leave everything in your dressing room. And then, I suspect they toss it in the dumpster. I have a pal who regularly raids the trash bin outside Full Moon Pictures – he's made some incredible finds!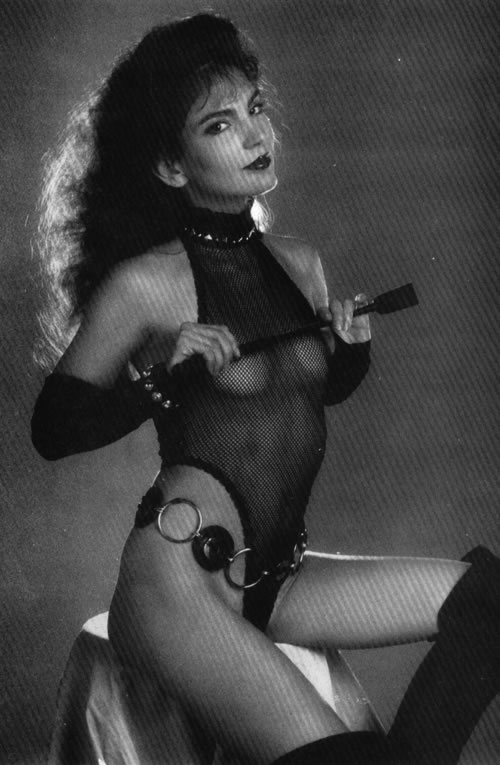 Q: What is it like working with fellow Scream Queens, Linnea Quigley and Michelle Bauer? Who are some people you've enjoyed working with?
A: The late 1980's were incredibly successful for the "Scream Queen" trio: me, Linnea, and Michelle. We had such a great time working together, and traveling to talk-shows and conventions across the country. We were very supportive of one another, always sharing job leads and helping out one another. Nowadays, we've sort of scattered and moved on in different ways – but I'll never forget that exciting heyday.

Other than that, I rarely work with the same people more than once. I've done two films with Tom Savini recently (WEB OF DARKNESS will be released in late-2001). Apart from being an SFX master, he's also a talented actor and director. He's cool to work with, and has led a fascinating life… I'm a big fan of his career.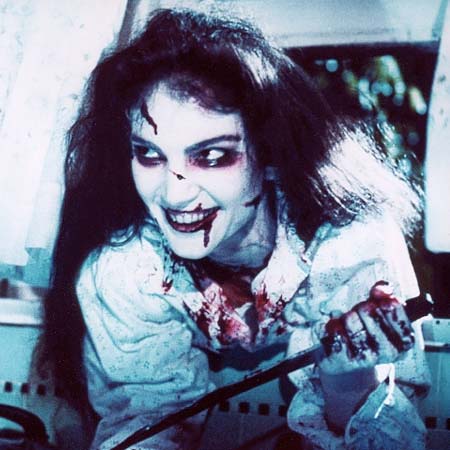 Q: What do you feel has been your best piece of acting? Which film have you enjoyed doing the most?
A: I've loved a lot of my movie roles – as the escaped mental patient in GRANDMA'S HOUSE, as the incompetent hit-woman in MOB BOSS, as the lollypop licking demoness in NIGHTMARE SISTERS… all classics! I think my best acting was seen in HAUNTING FEAR, opposite Jan Michael Vincent and Karen Black. I really had to carry the whole film, and I got to slowly go insane. It was an actor's dream!

Q: Do you know when "American Nightmare" is going to be released?
A: Pretty soon… they're still looking for the right distributor. It's a moderate-budget, 16mm, regional film (made in Texas) – and believe me, it rocks! Set on Halloween night, as a pirate radio station broadcasts the callers' worst fears, a serial killer hunts 'em down and makes all their nightmares come true. Debbie Rochon is quite remarkable as the stalker – she's matured into a phenomenal actress. I played a mother whose child she kidnaps – a minor role, but fun to shoot (in my "Evila" dress from MONSTERLAND magazine).

Q: I understand you have a role in the upcoming "Witchouse 3." What is that all going to be like, and what else do you have in store?
A: In June 2001, Debbie Rochon and I were supposed to fly to Delaware to shoot a werewolf movie. When it was postponed, Full Moon wisely snatched us up for WITCHHOUSE 3. I took over the role of "Lilith", a legendary bad witch – and worked long hours under a ton of make-up, terrorizing Debbie and pals. I think it will look very scary and have high suspense. It's directed by veteran JR Bookwalter, and lensed by Danny Draven (who helmed HORRORVISION), so you know it's gotta be good!

Many thanks go out to Brinke for sending me six, wonderful pictures of herself!

www.Brinke.com
Look for Brinke in the upcoming Witchouse 3!!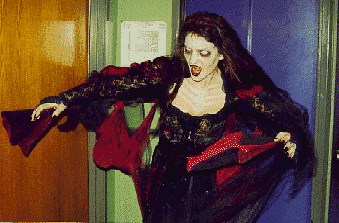 ---
[Home][The Slumber Party Massacre][Slumber Party Massacre 2][Slumber Party Massacre 3][Sorority House Massacre][Sorority House Massacre 2][Hard to Die][E-mail]
---
© 2001 to present, The Old Hockstatter Place

This site is completely unofficial, and is not endorsed by anyone affiliated with the Slumber Party Massacre or Sorority House Massacre series - both © New Concorde/Horizons. All site material was produced by the webmaster, unless otherwise noted. Images, sounds, etc. are to be uploaded to your own server if used on other sites, along with credit to their rightful owners. Site best experienced using 800x600 or 1280x1024 resolutions with Internet Explorer.