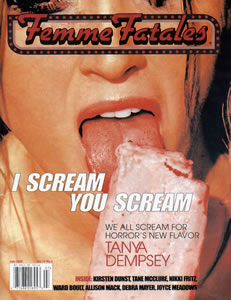 Jason Paul Collum had sent me this issue of Femme Fatales awhile back, and I'm just finally getting around to putting up scans for all of you to read. This is a great issue with an in-depth interview with the lovely Debra DeLiso who portrayed "Kim" in SPM. I want to thank Jason once again for the great magazine, and the both of these wonderful people for conducting such a great interview.









Also, I thought these were interesting... This certain spread must've been made out before the article was published and features alternate photos. Thanks to Debra DeLiso.







I highly encourage you to order a back issue of this or any other Femme Fatales magazine today!
For ordering information, go to:

Femme Fatales Official Site
Note: No copyright infringement is intended in using excerpts from the articles; this is solely for fan-related purposes and to give others a good idea of the magazine, in hopes that they'll purchase it via Femme Fatales as well.
---
[Home][The Slumber Party Massacre][Slumber Party Massacre 2][Slumber Party Massacre 3][Sorority House Massacre][Sorority House Massacre 2][Hard to Die][E-mail]
---
© 2001 to present, The Old Hockstatter Place

This site is completely unofficial, and is not endorsed by anyone affiliated with the Slumber Party Massacre or Sorority House Massacre series - both © New Concorde/Horizons. All site material was produced by the webmaster, unless otherwise noted. Images, sounds, etc. are to be uploaded to your own server if used on other sites, along with credit to their rightful owners. Site best experienced using 800x600 or 1280x1024 resolutions with Internet Explorer.