Interview by Tony Brown - August 24, 2009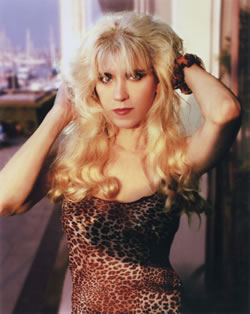 Q: Tell us about how you got started on Broadway and made the transition to feature films. Did you ever aspire to be in bigger budget material, despite your loyal scream queen cult status?

A: I was always an actress and a ballet dancer since I was 4 years old, so when it came time for me to go out into the world and make a living, I followed the advice of my beloved grandmother, "If you do something that you love, you will ALWAYS be a success." My heart, spirit, and passion has ALWAYS been with acting, dancing, and performing, so Broadway was my natural progression, especially since I was born in South Central New Jersey on May 17, 1967, and had aspirations of starting my career in the Big Apple. I aspired to be a movie star and have appeared with such "A" stars as Goldie Hawn, Carl Weathers, Tommy Lee Jones, Gary Busey, Steve Railsback, Ian McShane, and many more.

Q: What do you recall about filming Hard to Die?

A: One of my coolest memories of my shoot on Hard to Die was when we were shooting the "stairwell scene" when Gail and I are running from Orville, who we think is going to kill us. We're trying to escape! Gail is farther up the stairs and I'm confronted by Orville (Peter Spellos), and I have to kick, hit, and push him down the stairs! We had been shooting late the night before and had a 6:30 AM set call! I had to work with a pro stuntman to get my moves down. It had to be done precisely and fast! The stairwell was narrow, and as you know Tony, I was wearing skimpy, sexy lingerie with stiletto heels! As I was learning the attack from the stuntman, I saw (on the set) Mr. Roger Corman! He showed up to see how the filming was going. I felt the pressure, but I was honored and made it happen perfectly! The timing had to be just right for the effect!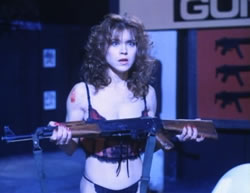 Another fond and amusing memory amongst so many, was my death scene. Gail and I found ourselves in the "Gun & Rifle" room (conveniently). Karen, as the demon, appears in the elevator. She plays the part brilliantly! I loved her! I was directed by Jim to take the bullet from the AK47 as it rounded the corner of the room. Well, the bullets were fired so fast it was very difficult to gage my hit! I either fell too early or too late after the bullet went by and then finally I did it right on target! My legs pop up in the air and I hold my chest! It's so funny! Everyone laughed...a hilarious moment!

Q: What was it like working with Peter Spellos (Orville Ketchum) and the rest of the girls (Gail Harris, Karen Mayo-Chandler, Bridget Carney, Melissa Moore)?

A: It was wonderful working with everyone on Hard to Die! Everyone was so nice and talented! We are all friends to this day!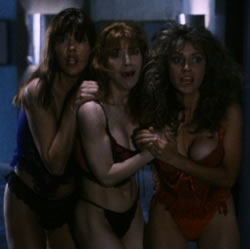 Q: Did you stay in contact with anyone from Hard to Die or know what Bridget Carney's up to nowadays - and is that her actual name? I don't know if you were aware, but Karen Mayo-Chadler (aka Lindsay Taylor, who played Diana) died of breast cancer back in 2006. Very sad...

A: I stay in contact with Gail. We do autograph signings from time to time and run into each other. And, tragically, I saw Karen at the AFM a year before she died. I saw her little baby, and her hair was blonde. We exchanged numbers and were going to get together! I cried when she passed away.

Q: Was using the name of Debra Dare on Hard to Die a sign of embarassment or just the name you were using at the time? I realize many people on Jim Wynorski's films use fake names, hahaha...

A: Debra Dare is a family name. My Swedish side is "The Dares from Sweden." But I'm very proud of both my aka Debra Dare and Hard to Die!

Q: What was it like working with cult movie directors Jim Wynorski and Fred Olen Ray on such movies as Hard to Die, The Haunting of Morella, Dinosaur Island, and Attack of the 60 Foot Centerfold?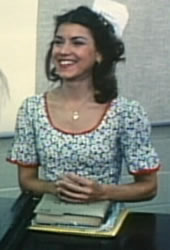 A: I have only accolades for both Jim Wynorski and Fred Olen Ray! They gave me my greatest opportunities, believed in me, and are responsible for my scream queen celebrity. I have infinite gratitude to Jim Wynorski, who gave me my first break in The Haunting of Morella (!) and Fred Olen Ray as Sheila Harrison in Mind Twister! They are incredible filmmakers and should receive Academy Awards, in my opinion. I am honored to have worked with them, and all the movies are "golden memories" of both fun and art! I am very proud of my work as an actress in all of the mentioned flix!

Q: Graduation Day is a cult favorite among fans of '80s slasher flicks (and also features fellow scream queen Linnea Quigley). What all do you remember filming your small role on the film, and what was Vanna White like?

A: Graduation Day was so exciting! I was so young and impressionable! Riding the bicycle in the high school campus was "break-through" for me! It's the reason I initially got my part. I owe a tremendous debt of gratitude to Aaron Butler, Herb Freed, and the late Anne Marisse! Vanna was a real sweetheart - we were all starting out together on our Hollywood journey. Destiny linked Linnea and I together forever as scream queens!

Q: Sorority Girls and the Creature from Hell gained a small cult following when it was played frequently on USA Up All Night (a much missed program of mine). Tell me about filming that campy flick (and the ridiculous, laughable ADR...!).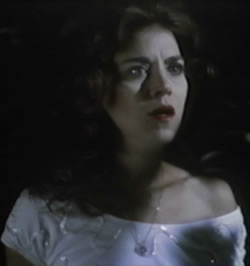 A: Tony, there is so much to tell you about Sorority Girls and the Creature from Hell that I think we should add another interview in the near future! It was an amazing and enlightening experience! I'll tell you all about the ADR too!

Q: Okay, so the Vice Academy movies are some of my favorite campy comedies ever. Tell us about Rick Sloane and what it was like playing a hooker in part 4 (who gets knocked upside the head with a bottle and has her outfit stolen by Malathion...!) and a prison inmate (Aereola...!) in part 6. Anyone you particularly enjoyed working with on the two Vice Academy movies you did? Any reason why you weren't cast in part 5? Lastly, what were Elizabeth Kaitan and Julia Parton like?

A: Rick Sloane is the epitome of a cool guy! He is so cool! I met him at AFM right at the right time! He wanted me for the hooker and the rest is history! Rick is like Quentin Tarantino! Rick always had a fun and happening script, and the characters are great! Liz and I are friends today! We chant Nam-Myoho-Renge-Kyo and practice Buddhism together.

Q: What was it like having one of your first movies being a starring role in Bruce Lee Fights Back from the Grave (which is actually a "Bruce-ploitation" flick)?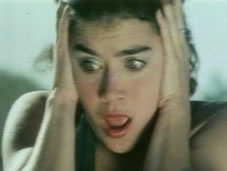 A: The whole experience about Bruce Lee Fights Back from the Grave is another interview! I'll send it along with my Sorority Girls and the Creature from Hell experience! It's unbelievable! But as my dear grandmother told me, "Nobody will believe the truth, truth is better than fiction!"

Q: What has Debbie been up to nowadays? Is acting still a big career aspiration for you? I understand you've been teaching yoga since 1991. Also, any upcoming projects?

A: Acting will always be my heart and soul's passion! I'm coming out in a new release late this fall, starring in Vampiress, Lady of the Night in which I have associate producer credit as well as the starring role. It is written and produced by Philip Cable, a well-known indy filmmaker! I'm excited about the premiere at this year's (November '09) AFM! Also, I'm producing and starring in my own dream project, The Hollywood Warrioress (aka The Dream of Alvareen). Tony, you can download the synopsis from my website: www.debbiedutch.com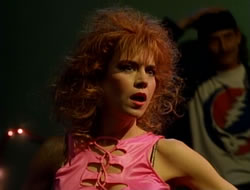 I'm also very active shooting and appearing with my girlfriend and sister scream queen Debbie D. We're coming out in a newly published book by photographer/publisher, Michael Enoches, titled The Double Ds: Debbie D & Debbie Dutch: Scream Queens in Pictures. I just sent Michael my bio and photos for a "solo" book, soon to be published (as) Debbie Dutch: A Scream Queen in Pictures. I'm being interviewed this week by Danial Lizanna, film director for the popular magazine Art & Culture, with a pictorial and I await news of a start date on a feature film that I can't mention yet! You know Hollywood, Tony!

When I'm not busy with my acting career, I'm teaching yoga and meditation to hundreds of students every week, all over the L.A. area. I love the spiritual balance that I manifest. It's like I have a dual persona, spiritual vs. Hollywood star! It's all in the "heavens!" I love helping other people, and my mission in life is to spread peace and happiness throughout humanity and the world through my art! My motto is "Never give up on your dreams"! Thank you so much, Tony, for giving me this opportunity to share my life experience as a scream queen. I hope to encourage others in their journey and quest to achieve and fulfill their dreams!

P.S. I also unveiled the first body cast of me, sculpted by James Spinner of www.jamesfxart.com. He's worked on Batman, Californication, etc. It's beautiful!

P.P.S. Also, don't miss the short film by "Andy Neal" of Narcissus International on YouTube, titled Debbie Dutch: Scream Queen, Actress Yay!!!

All love & blessings, oxs 4 ever, Debbie Dutch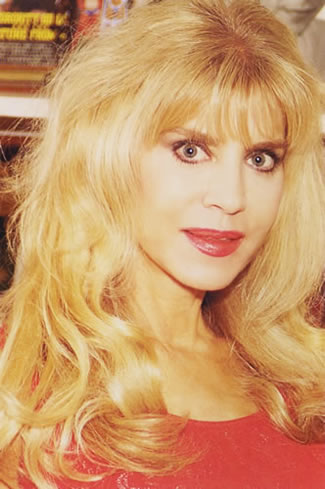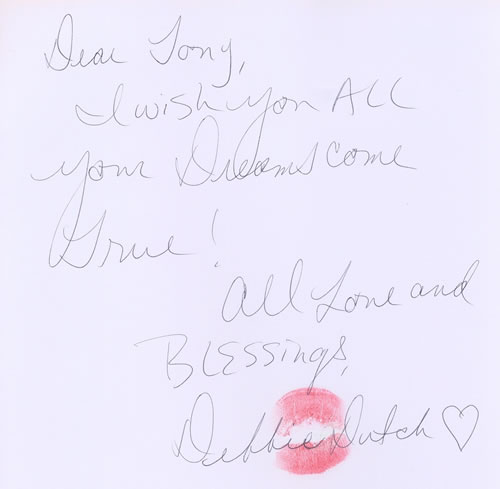 ---
[Home][The Slumber Party Massacre][Slumber Party Massacre 2][Slumber Party Massacre 3][Sorority House Massacre][Sorority House Massacre 2][Hard to Die][E-mail]
---
© 2001 to present, The Old Hockstatter Place

This site is completely unofficial, and is not endorsed by anyone affiliated with the Slumber Party Massacre or Sorority House Massacre series - both © New Concorde/Horizons. All site material was produced by the webmaster, unless otherwise noted. Images, sounds, etc. are to be uploaded to your own server if used on other sites, along with credit to their rightful owners. Site best experienced using 800x600 or 1280x1024 resolutions with Internet Explorer.