---
During Linda's (Brinke Stevens) chase scene, you'll spot two deliberate visual gags: flyers stating "Join the Drill Team!" and "Emergency Drill Instructions."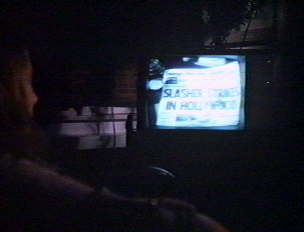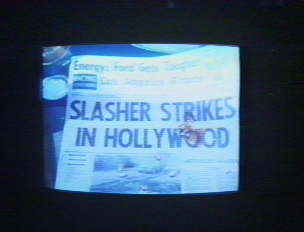 Valerie (Robin Stille) watches Hollywood Boulevard (1976) on TV, which is later shown in Sorority House Massacre 2.

Thanks to Dave for the above information.
When Kim (Debra Deliso) is throwing the little statues at Russ Thorn (Michael Villela), you can spot Rubyfruit Jungle, a book by Rita Mae Brown, who wrote the film.

Thanks to Nathan for the above information.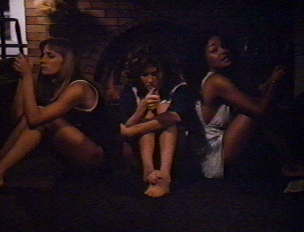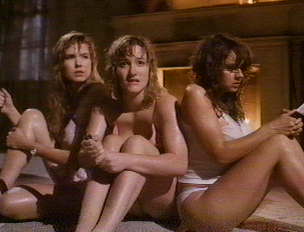 Three of the girls sit in the same position in both SPM and Sorority House Massacre 2.
In SPM, SPM 2, SPM 3, SHM, and HTD, the characters push something against a door to keep the killer from entering.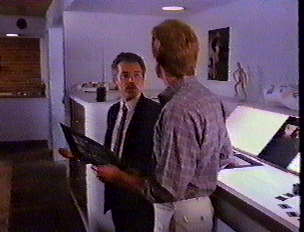 Michael Villela (Russ Thorn) had a bit part in the 1983 Roger Corman film, Love Letters (aka My Love Letters, Passion Play), which was directed by SPM director Amy Jones and had music composed by Ralph Jones, who did the music for SPM.
Debra Deliso (Kim) and Joe Johnson (Neil) starred together in the late-80s horror movie, Iced.
Robin Stille (Valerie) and Brinke Stevens (Linda) were in the 1988 horror-fantasy schlocker, Sorority Babes in the Slimeball Bowl-o-Rama.
Featured in Dusk to Dawn Drive-In Trash-o-rama Show Southern Style, Volume 2 (1995) and The Coroner (1999).
Carol Frank, who later directed SHM, was assistant to the director on this film.
A short "prologue" scene, which ran approximately 8 minutes, was originally shot by Amy Jones but ultimately not used in the film. Here are some details from Amy Jones, herself, which explains the radio announcement at the beginning and why the film didn't turn out quite like a horror spoof:

"The opening I shot and gave as a reel to Corman, which got me the job, had a Ouija scene in it. I don't have a copy. He probably tossed it out. We couldn't use it in the film because I'd done it with non-SAG actors. The same actor was the killer, however. It looked far fancier than the final film because my husband, a famous cinematographer [Michael Chapman], shot it. He didn't shoot Slumber Party, so it was a good deal more primitive.

Shooting the opening was great fun. We had a tiny crew including myself, my husband and our neighbor Howard Chesley who took sound. We shot it in the house we were renting in the Venice canals. As I now remember, it was a tarot reading among hippies with a bad outcome, (probably the death card), suspense as you sensed someone was in the yard, a series of deaths in the house. I remember creating the special effect ourselves of a knife or hatchet going into a head using a styrofoam head and wig. It worked surprisingly well. We did it in two or three nights and it was about 8 minutes long. I cut it on Joe Dante's flatbed as he was doing The Howling and he lent me some cues for the temp dub, also done on the KEM. All this would be easy today with HD. The cast were students, non SAG, which doomed the thing to never be used.

The opening was a rewritten version of the opening of the Rita Mae Brown script, Don't Open the Door, which I did a huge rewrite on later to make SPM. It was a "prologue" establishing the killer years earlier. I don't really remember Rita's draft. The bones of it were similar but it was a big rewrite. I didn't take screenplay credit and it was the first thing I ever wrote."

Go here for more information on the prologue scene.
There is a Popular episode titled The Slumber Party Massacre. It's not a spoof of SPM but rather just a clever title for the episode which is about a slumber party that goes horribly wrong for the character of Carmen...
Here is some interesting info about the poster/promo artwork from Jim Wynorski (who helped shoot the photos):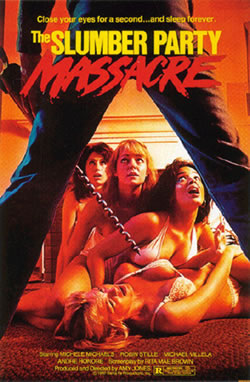 "The girl lying on the floor in the poster is the late Jillian Kesner. She died tragically young last year [a staph infection, December 5th, 2007]. Only Andre Honore was from the original film.

That's not Michael [Villela]. He wasn't there the day we took the photo. As I stated above, that's Jillian Kesner on the floor, then Andre Honore, Bernadette Williams and some unknown chick I remember dating for about two weeks at the time."

Further research reveals some interesting facts about Jillian Kesner: she played Fonzie's girlfriend, Lorraine, on Happy Days, was married to director Gary Graver, and was interviewed by Jewel Shepard for Jewel's book, Invasion of the B-Girls. She was also in 1981's Firecracker (a Roger Corman feature) and 1982's Trick or Treats, which Gary Graver directed. Go here for more info on the late actress/model.

Bernadette Williams, on the other hand, only made a few TV appearances on Hunter (1985), Crazy Like a Fox (1985), Hardcastle and McCormick (1985), and Better Days (1986). She was also the star of the 1983 WIP flick, Caged Fury.
Visit the Femme Fatales page to get a bunch of trivia on all the SPM movies.
Visit Location Shots to get a bunch of trivia on the filming locations for the film, thanks to Devon and Haley.
---
[Home][The Slumber Party Massacre][Slumber Party Massacre 2][Slumber Party Massacre 3][Sorority House Massacre][Sorority House Massacre 2][Hard to Die][E-mail]
---
© 2001 to present, The Old Hockstatter Place

This site is completely unofficial, and is not endorsed by anyone affiliated with the Slumber Party Massacre or Sorority House Massacre series - both © New Concorde/Horizons. All site material was produced by the webmaster, unless otherwise noted. Images, sounds, etc. are to be uploaded to your own server if used on other sites, along with credit to their rightful owners. Site best experienced using 800x600 or 1280x1024 resolutions with Internet Explorer.