8-25-09
For anyone who missed the site (I doubt there's anyone...lol) here it is. I really don't expect to be updating this all that much...just wanted to put it back up to pay homage to Linnea!

11-9-04
Finally, after months of silence--updates!! And these aren't just some filmography additions, either, folks. I have for you, the long-awaited second interview with Linnea herself and loads of new pictures. Just select Interview #2 and Gallery. Stay tuned for more, and I will definitely make the interview less plain. Thanks a lot, Linnea!!

7-28-04
Hey, everyone, this is the site's new home - http://www.project73.net/linnea/

Please update all links, bookmarks, etc. Thanks!

2-14-04
We lost a very beloved member of our family a few hours ago--Seether Forsythia Brown, my sister's female Boston Terrier. She was battling what we believe was a combination of an inner ear infection and canine vestibular disease. She passed on peacefully in her sleep. She will feel no more pain. We love you, little girl, and we'll miss you so much... My sister has made a page dedicated to Seether - here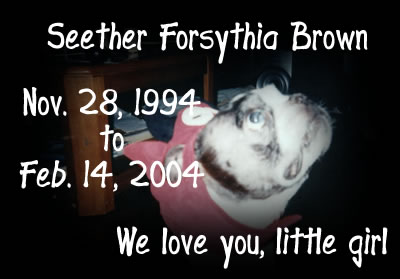 6-22-03
New addition to the site, the Videos section.

6-21-03
I made some changes to the Filmography section. Look out for Nightmare Sisters and Scream Queen Hot Tub Party coming to DVD soon.

Retromedia Entertainment, Inc.

10-19-02
Sorry for the lack of updates, but it doesn't seem like there's all that much to add lately. I did update the Filmography though, and there's some new, cool stuff on the official site, including exclusive thank you video clips (kinda cool to see her outside with her many pets, haha). I got to see the ROTLD DVD, and it's pretty cool, so check that out as well!

7-1-02
According to The Internet Movie Database, Linnea obviously has another movie in production, Each Time I Kill.

5-26-02
I added loads of new screenshots, and Linnea was just featured in the recent issue of Femme Fatales, Scream Queen Resurrection, so be looking out for stuff about that in the next update, along with more goodies! Visit Femme Fatales and Jason Paul Collum's site while you're at it!

5-12-02
Well, here it is, the big surprise I mentioned over a month ago...The Linnea Quigley Interview! Words cannot describe how wonderful this was to conduct and a dream come true it was, so read it now, and stay tuned for further updates!




4-1-02
Recently, I realized that I'd neglected this site beyond recognition. It's too small... There's not enough content... etc. Well, that's all going to change soon. As you can see, I've already put up a more detailed Filmography that lists everything I know of that Linnea has done... I'm going to put up more screenshots, photos, posters, and video covers as well. Also, there's a special surprise in store that will hopefully be on the site soon... Stay tuned, fellow Linnea fans. I hope for this site to be one of the most informative and entertaining Linnea sites on the web!



---
© 2000 to present, The Ultimate Linnea Quigley Website

This website is completely unofficial and is not affiliated or endorsed by Linnea Quigley. It is simply a fansite for entertainment purposes. I am not Linnea.